CONTROL

· RECORD ·

COMPLY
Harp International, the market leader in the supply of high quality specialist chemicals and environmental services to the refrigeration and air conditioning industries, has developed another leading innovative industry first - trackmycylinders.com in order to assist its client base in controlling accurate cylinder records to comply with F Gas regulations.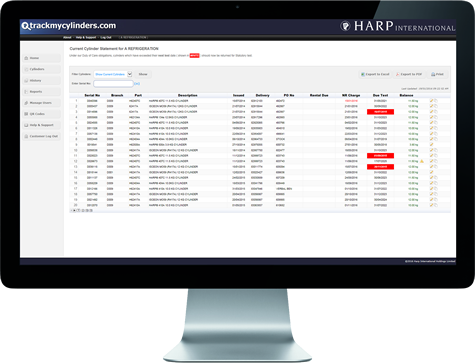 As the industry enters a period of change with the phase down on the quantity of HFC's which can be placed on the market, the ability to control, record and comply within an increasingly regulated environment will be key to your success.
Each refrigerant cylinder requires a hydrostatic pressure test every 10 years to comply with current regulations. It is NOT illegal for a contractor, or engineer, to use a cylinder which has exceeded its test expiry. Harp International has a Duty of Care to notify users of its cylinder fleet that test dates have expired and would always recommend that these cylinders are returned for a new pressure test as soon as is practical. This data is also highlighted within trackmycylinders.com
Key Features of trackmycylinders.com
control and maintain cylinder holdings in real-time 24/7
record gas usage on a per transaction basis
generate reports to comply with F Gas regulations
be aware of imminent cylinder charges
create equipment QR Codes to work with our free mobile app
monitor cylinder test tests
clearly shows remaining balance in cylinders
cylinder fill weights shown in kgs CO2 equivalent tonnes
cylinder aged analysis and allocation reports to locate cylinders
The FREE Harp International mobile app, available for Android and iOS, allows the user to scan a cylinder's barcode, along with a custom generated equipment QR Code, to aid in the cylinder transaction process - reducing time, paperwork and the risk of transposition errors.
For more information, or to gain access to trackmycylinders.com please contact your local HARP® distributor.
This is a continuous development project and we would welcome any client feedback on: feedback@trackmycylinders.com
For any support queries, please e-mail: support@trackmycylinders.com